You're invited to go on a virtual retreat with Fr. Michel Rodrigue
Priest, Mystic, Exorcist, Founder and Superior General of The Apostolic Fraternity of Saint Benedict Joseph Labre (founded in 2012)
 by Christine Watkins
As a chosen "Apostle of the End Times" (according to a revelation he received), God the Father has allegedly given to Fr. Michel Rodrigue a startlingly detailed understanding of events to come and of how to prepare (please read our Disclaimer on the homepage regarding discernment of all private revelation here). Please follow the texts and videos in the order they are presented in the posts below. You will be taken through pages of messages Fr. Michel has allegedly received from heaven, video and audio recordings of some of his talks from a California retreat (November 22-24, 2019), and synthesized writings of his lively presentations. I recommend that you take your time to discern. The content can be life-changing, if you allow it to be, and urgent, if you understand it. To move through this material in any other way may needlessly be a bit confusing, as each talk and message from heaven builds on the last.
Let us begin . . . So who is Fr. Michel Rodrigue?
Taken from the best-selling book, The Warning: Testimonies and Prophecies of the Illumination of Conscience:
Fr. Michel Rodrigue is the founder and Abbott of a new religious order approved by the Catholic Church: The Apostolic Fraternity of St. Benedict Joseph Labre in the diocese of Amos in Quebec, Canada (Fraternité Apostolique Saint Benoît-Joseph Labre). Born into a faithful Catholic family of twenty-three children, Michel grew up poor. His family lived on a small piece of farmland, where hard work and bumpy trips to Sunday Mass with multiple children on horseback kept his family alive in body and spirit.
Like St. Padre Pio and other chosen souls, God the Father began speaking to Michel at a tender age. "When I was three years old," says Fr. Michel, "God began to speak to me, and we would have regular conversations. I remember sitting under a big tree behind our home on our family farm and asking God, 'Who made this tree?'
"'I did,' God answered. And when He pronounced the word, 'I,' suddenly I was given a vast view of the Earth, the universe, and myself, and I understood that everything was made and held in existence by Him. I thought that everyone talked to God the Father. From age three to six, the Lord instructed me in the faith and gave me a thorough theological education. He also told me, when I was three, that I would be a priest."
The Father gave Michel such a thorough education in theology that when he attended the Grand Seminary of Quebec after high school, he tested out of his classes with an A+. Michel subsequently studied psychology and areas of theology, such as mariology, pneumatology, the writings of the Church Fathers, and graduated with a doctorate in theology.
After founding and managing a shelter for homeless youth, which offered them psychological and spiritual care, Michel Rodrigue was ordained a diocesan priest at the age of thirty. He served as a parish priest for five years in northern Ontario until his bishop discerned that his talents would be best utilized forming future clergy. Fr. Michel then became a Sulpician priest teaching theology at the Grand Seminary of Montreal.
On Christmas Eve, 2009, Fr. Michel's priesthood took an extraordinary turn. He was awakened in the night by the presence of St. Benedict Joseph Labre, who stood by his bedside, shaking his shoulder to get his attention. Fr. Michel was awakened and heard the voice of God the Father say, "Stand." So Fr. Michel stood up. "Go to the computer." So he obeyed. "Listen and write." That is when God began to dictate the entire constitution for a new religious order, faster than Fr. Michel could type. He had to tell the Father to slow down!
Then God suddenly whisked Fr. Michel into a mystical flight to the land in the Diocese of Amos, Quebec, where He wanted a monastery built, and showed him in detail the monastery's design. The Father told Fr. Michel that he would be the founder of this monastery. He would start a new religious order called Fraternité Apostolique Saint Benoît-Joseph Labre (The Apostolic Fraternity of St. Joseph Benedict Labre) in order to prepare priests for the future of the Catholic Church, along with a second branch for the lay consecrated and a third for families. Fr. Michel initially responded with feelings of panic, as his obligations were already overwhelming, but quickly realized that saying no to the Father wasn't an option. Today the first of the two monastery buildings is now built, exactly as he was instructed, and he is currently in need of much support to have the second monastery completed by the due date the Father gave him: the end of summer, 2020.
On March 28, 2020, Fr. Michel submitted the following letters in his own hand to be posted on this site. Click here to read his introduction of himself and the Fraternity and click here to read his entire letter of March 26, 2000 to those helping him to accomplish the Lord's project of the monastery for the Church of the future. In one letter, he writes:
. . . Notice the fact that all those who know the coming of Christ in grace in our time are sons and daughters of Mary, our Mother. We are chosen for a special role: to be obedient to the Holy Spirit and our Mother Mary and to stand ready and able to help our brothers and sisters step into the journey of the Church. . .
My dear people of God, we are now passing a test. The great events of purification will begin this fall. Be ready with the Rosary to disarm Satan and to protect our people. Make sure that you are in the state of grace by having made your general confession to a Catholic priest. The spiritual battle will begin. Remember these words: THE MONTH OF THE ROSARY WILL SEE GREAT THINGS!
—Dom Michel Rodrigue
(Note: when it comes to specific dates or times, such as above, we ask our readers to simply discern with us according to the Disclaimer on our homepage).
God has gifted Fr. Michel Rodrigue with extraordinary intellectual and spiritual gifts, such as healing, reading souls, a photographic memory (which lessened after many severe illnesses and eight heart attacks!), prophecy, locutions, and visions. He has a naturally joyful disposition and a ready laugh, while at the same time, a great seriousness concerning the things of God. He is an official exorcist of the Church, in addition to his duties as a seminary professor, hospital minister, parish priest, and most recently, as the founder and Superior General of the new religious fraternity in French-speaking Quebec. He is the rector of the Studium of St. Joseph, a program of canonically accredited courses in partnership between the Apostolic Fraternity of St. Benedict Joseph Labre and the Monastery of the Heart of Jesus in Chicoutimi. Fr. Michel's video introduction in his native French tongue of the school's pedagogy in the context of the New Evangelization can be found here, and the translation of his words, here . Michel Rodrigue receives the full support of his bishop, and all of his locutions and visions are submitted to his local ordinary for approval.
* * *
Our Lady, herself, has named Fr. Michel Rodrigue, "Apostle of the End Times." Few, if any, have been given such thorough and helpful knowledge of the immediate future of our world. Fr. Michel therefore paints for us on a larger canvas, which reveals the interconnectedness and relevance of prophecies for our time, including those in Scripture. "Now, I understand! Now I see!" Say people who have heard Fr. Michel and who have previously sojourned into prophetic texts and emerged cross-eyed.
The words of Fr. Michel on this website are taken from recordings of his presentations. Some of his talks on the same subject have been combined into one, and in occasional places, the translation is not verbatim in order to use proper English grammar.
Fr. Michel is an obedient son of the Catholic Church. A few websites have posited, without his permission, words about him and from him, which are not entirely factual. Fr. Michel, for instance, does not support or even know of the messages of Maria Divine Mercy, and he supports Bishop Matthew H. Clark's investigation of John Leary, which declared Mr. Leary's messages to be of human origin. See his signed statement here. Hopefully, this website clears up any confusion.
* * *
On behalf of Fr. Michel:
Fr. Michel's new order, The Apostolic Fraternity of St. Benedict Joseph Labre in Quebec is an indispensable gift to the future of the Church. Willed by God, the second monastery for the order is still under construction. Fr. Michel is in need of much support regarding this endeavor, as he was told by God the Father that he would have to complete the second monastery in the summer of 2020. If a video inspires you to purchase the book, THE WARNING: Testimonies and Prophecies of the Illumination of Conscience, through QueenofPeaceMedia.com, simply enter the coupon code, FRATERNITY, on the cart or checkout page, and the proceeds will be sent to support the construction of the monastery. We contributors to Countdown to the Kingdom also invite you to offer your financial support directly to Fr. Michel for this most important mission. If you feel called to, please send donations to the address below. (Fr. Michel didn't ask us to do this! He is too humble.)
Please send checks made out to:
Fraternité Apostolique Saint Benoît-Joseph Labre
163, Rte 109
Saint-Dominique-du-Rosaire (Qc)
J0Y 2K0
Canada
Messages from Fr. Michel Rodrigue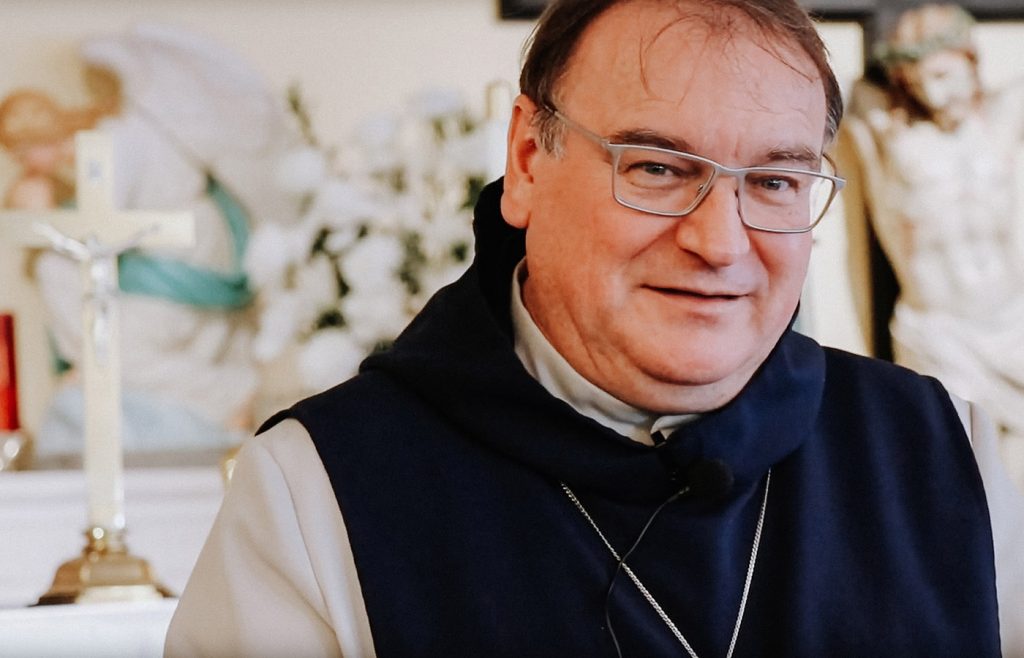 Fr. Michel Rodrigue's life story: When Michel was three years old, God began to speak to him, and they would have regular conversations. . .
Read More