If anyone comes to me without hating his father and mother, wife and children, brothers and sisters, and even his own life, he cannot be my disciple. Whoever does not carry his own cross and come after me cannot be my disciple. Which of you wishing to construct a tower does not first sit down and calculate the cost….? (Today's Gospel)
Perhaps at no other time in this generation have so many of us had to truly count the cost of following the Gospel. St. John Paul II's prophecy, while still a cardinal, has now come true. We truly are…
…facing the final confrontation between the Church and the anti-Church, of the Gospel versus the anti-Gospel, of Christ versus the anti-Christ… It is a trial… of 2,000 years of culture and Christian civilization, with all of its consequences for human dignity, individual rights, human rights and the rights of nations. —Cardinal Karol Wojtyla (JOHN PAUL II ), at the Eucharistic Congress, Philadelphia, PA; August 13, 1976; cf. Catholic Online (while several texts do not include the words "Christ versus the anti-Christ", Deacon Keith Fournier who was in attendance at the Congress, says he heard that statement as above.) 
As vaccine mandates spread across the world forcing tens of thousands of doctors, nurses, pilots, priests, and all manner of workers from their livelihoods because they have refused to become part of a mass experiment,[1]cf. Open Letter to the Bishops on the experimental nature of these mRNA injections we do indeed see that "human dignity, individual rights, human rights and the
rights of nations" are now on the line. And not only for the "unvaccinated." Many who, in good will, have taken these injections, are now discovering, or about to, that their governments will require them to take additional "booster shots" in order to maintain their vaccine passport "freedoms" — such as in Israel.[2]globalnews.ca In a word, whether you are vaccinated or not, all of our freedoms are now vanishing under a health technocracy. We are in this together, whether jabbed or not. 
Perhaps more crucially is that freedom of religion and truth are under assault. Strangely tied to the pandemic response and "climate change" are also "gender" and reproductive "rights", which are part of the sustainable development goals of the United Nations.[3]cf. The New Paganism – Part III To question these ideologies today has a cost not unlike the above: being de-platformed, dismissed from a career, and public humiliation. The great Servant of God John Hardon once said: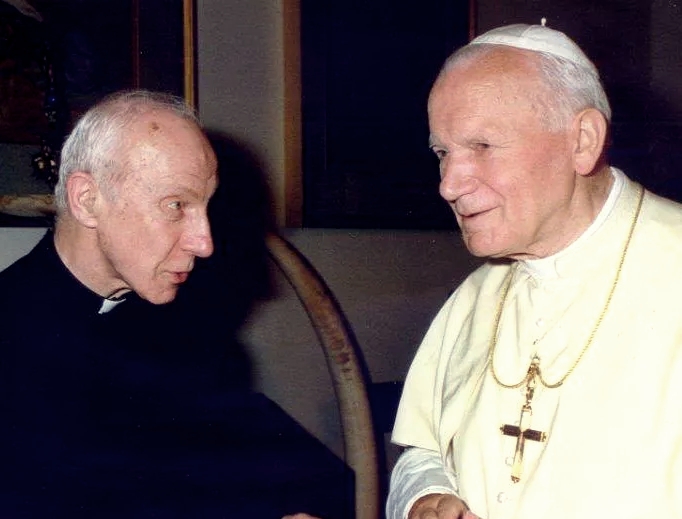 Those who challenge this new paganism are faced with a difficult option. Either they conform to this philosophy or they are faced with the prospect of martyrdom. —Servant of God Fr. John Hardon (1914-2000), How to Be a Loyal Catholic Today? By Being Loyal to the Bishop of Rome; www.therealpresence.org
And martyrdom today is not necessarily what it is for our brothers and sisters in the Middle East, Nigeria, etc.
In our own time, the price to be paid for fidelity to the Gospel is no longer being hanged, drawn and quartered but it often involves being dismissed out of hand, ridiculed or parodied. And yet, the Church cannot withdraw from the task of proclaiming Christ and his Gospel as saving truth, the source of our ultimate happiness as individuals and as the foundation of a just and humane society. —POPE BENEDICT XVI, London, England, September 18th, 2010; Zenit
We can add to that list: being banned from restaurants, gyms, grocery stores,[4]France video: rumble.com; Columbia: August 2nd, 2021; france24.com travelling, etc.[5]cf. It's Not Coming, It's Here
So, Jesus reminds us again in the Gospel that we have to count the cost of what it means to be His disciple. What is the first thing we often do? We think of it in terms of what we have to give up, what our pleasures are that we may need to detach from, and even what relationships we have to rescind in order to remain faithful to Jesus. And all of this is reasonable and important. Faith and reason are not opposed:
Do not conform yourselves to this age but be transformed by the renewal of your mind, that you may discern what is the will of God, what is good and pleasing and perfect. (Romans 12:2)
As a Church, we are collectively experiencing Gethsemane right now:[6]Watch: Our Gethsemane is Here the stripping of our freedoms under the pretense of the "common good"; the "kiss of Judas" that says bending to unethical medical mandates is an "act of love";[7]cf. Brace for Impact and Francis and the Great Shipwreck and the abandonment many Catholics feel right now with few shepherds defending them against these wolves of control.[8]cf. The Spirit of Control So now we come to it; now we are counting the ultimate cost:
The Cross
And St. Paul tells us in the second reading today what that is: 
Owe nothing to anyone, except to love one another… You shall love your neighbor as yourself. Love does no evil to the neighbor; hence, love is the fulfillment of the law. (Second reading)
So many of you are experiencing the cost of standing on the truth — of obeying your informed conscience at the price of "peace" with your father, mother, brother, sister, or children.[9]Matthew 10:34-36: "Do not think that I have come to bring peace upon the earth. I have come to bring not peace but the sword. For I have come to set a man 'against his father, a daughter against her mother, and a daughter-in-law against her mother-in-law; and one's enemies will be those of his household.'" I have lost count of the letters I've received from families completely divided over current affairs. 
In such a crisis it is even more incumbent on the Church to pray and work towards the marks of our Catholic faith – we are One, Holy, Catholic, & Apostolic community, and we trust in the Saviour of the World during times when the Evil One seeks to tear apart the Body of Christ. This is perhaps the most polarizing situation I have seen in my life – this may be the case for most of you as well. —Bishop Mark A. Hagemoen, Diocese of Saskatoon, Letter of November 2nd, 2021
The temptation is to respond in anger, self-righteousness, and revengefulness. But here is where we are called to the ultimate sacrifice: to love them to the end. And "Love is patient, love is kind. It is not jealous, love is not pompous, it is not inflated, it is not rude, it does not seek its own interests, it is not quick-tempered, it does not brood over injury, it does not rejoice over wrongdoing but rejoices with the truth."[10]1 Cor 13:4-6 Sometimes, just being patient is a far greater martyrdom than anything else. 
My beloved brothers and sisters, Countdown to the Kingdom is not here to scare you; it exists to prepare you. When asked once why he was such a pessimist, Cardinal Ratzinger replied, "I'm not. I'm a realist." We have to be realists about what is happening all around us. We have to be realists that our lifestyles and comfortable routines, as we know them, are going to change. We have to be realists that soon, if not already, the price of standing for the truth is going to cost us in a painful way — if we remain faithful.
Jesus tells us to count that cost beforehand, lest our faith is stolen "like a thief in the night"; lest we be like the unwise virgins caught without enough oil in our lamps.[11]cf. Matt 25:1-13 And what does He promise to those who pay the price?
Amen, I say to you, there is no one who has given up house or brothers or sisters or mother or father or children or lands for my sake and for the sake of the gospel who will not receive a hundred times more now in this present age: houses and brothers and sisters and mothers and children and lands, with persecutions, and eternal life in the age to come. (Mark 29-30)
So don't be afraid. Be wise. Be childlike. Be obedient… and you will be more than fine. And place whatever fears you have of these costs into the Mother's Heart, and she will help you.[12]cf. Place Your Fears in My Heart
The world is rapidly being divided into two camps,
the comradeship of anti-Christ and the brotherhood of Christ.
The lines between these two are being drawn….
in a conflict between truth and darkness,
truth cannot lose. 
—Venerable Fulton John Sheen, Bishop,(1895-1979)
source unknown, possibly "The Catholic Hour"

The only Catholic families that will remain alive
and thriving in the twenty-first century
are the families of martyrs. 
—Servant of God, Fr. John A. Hardon, S.J., 
The Blessed Virgin and the Sanctification of the Family
—Mark Mallett is the author of The Final Confrontation and The Now Word, and a cofounder of Countdown to the Kingdom
Related Reading
*Photo of Fr. John Hardon with John Paul II: Credit: "Eternal Life", cf. lifeeternal.org